SEED The Art Space Ltd (SEED) is an independent non-profit art space that aims to enable and empower artists, curators, researchers, art enthusiasts and like-minded people to explore ideas which could push the boundaries of their artistic practices. The art space aims to "SEED" new ideas, new artistic approaches and new audiences through art exhibitions, artist residency programmes, art talk or workshops, art research and other outreach programs for Singapore and regional art communities.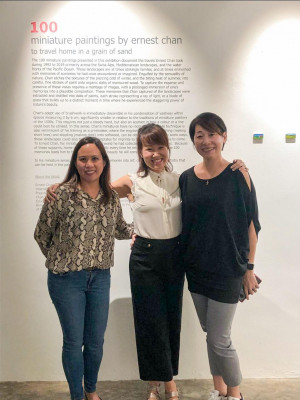 SEED was formed by three friends, Ivy Lam, Lourdes Samson and Connie Wong. They first met as students in the MA Asian Art History program at the Lasalle College of Arts in 2017. Although coming from very different backgrounds, the strong camaraderie of their cohort formed the foundation for their current partnership. The initial idea was sparked off when Connie shared her idea of starting a non-profit to support artists and the local art community upon graduation. Committed to the plan, she first approached Ivy and Lou to be part of this initiative, while their classmate Tina Jailani joined as their first collaborator. Connie mused that the name of their new venture was inspired by the biblical parable of the mustard seed, "similar concept to our platform, a very small seed we envision its potential to turn into something much bigger."
The founders feel that their shared passion for Art and their grounding in Art History and academic research sets their initiative apart. This academic background provides the team with the ability to think critically about all aspects of art and gives them the confidence to work on new projects that may challenge their boundaries.